Who here cried when the little Trevor died in Pay it Forward. The 7th grader had a plan to make the world a better place by
Doing something that really helps people.
Something they can't do themselves.
I do for them . They do it for 3 other people.
I did. It has been a "back of the mind" basic principal that I have incorporated into my life along. I even joke about the W.W.J.D. bracelets meaning What Would Joe Do?
Here are some other powerful things that guide my life.
The Golden Rule, Leaving rake marks, and remembering those loved ones that have past away over the years by keeping their memories alive.
During a recent request to do some charity work, it dawned on me how to blend work, random acts of kindness, remembering loved ones, and having fun into a program that makes sense, and fits with the positive culture I have surrounded myself with.
The Situation.
I believe in karma, and through creating my own good karma and random acts of compassion, I make the world a better place. I know that there are many folks here in Boise that share my belief, but have found it difficult to find a meaningful avenue to get involved. Not to minimize the need for charitable fundraising through sponsored runs and walks, but other than exercising and wearing out the sole a bit, but does little for the soul.
Does this sound like you?
I like to fix things and make my living spaces better.
I work long hours in an air-conditioned office, so I don't have the tools or time to scratch the remodeling itch.
I would love to learn about how remodeling works, but I have no hands-on opportunities.
I like doing nice things for others and would love to participate if only someone else would pick the recipients, and run the show.
My life is too busy to offer up an entire day to anyone.
I have loved ones that have passed away, and I would like to keep that person's memory alive.
I love to socialize with others that share my interests.
My instant gratification bell likes to ring loud and often.
Getting praise for a job well done is rewarding and satisfying.
Giving back through good deeds to a worthy recipient fills me up.
The Idea.
Levco will sponsor a "Social club with a remodeling problem". You will be known as part of the "The Mitzvah Makers"
We will find the charity work and organize a work party. The word will go out on Facebook, then, whoever can make it is welcome. I anticipate short bursts of hard work and some socializing.
We will provide tools you bring work clothes. We gather and do whatever is needed for the worthy recipient.
Once the work is done, we can go off and have a beer or whatever and toast to the memory of the loved one you worked in honor of that day. Everyone will be given an opportunity to tell a little bit about that person and the significant role they played in their life to the group.
Not in the mood to remodel, no problem, be a cheerleader, bring snacks, do some yard work or whatever. There is nothing like the high of doing random acts of kindness.
Inspirational quotes that motivate me
"Successful people are always looking for opportunities to help others. Unsuccessful people are always asking, "What's in it for me?"― Brian Tracy
Even though the Wizard of Oz had his shortcomings, he did remind us, "A heart is not judged by how much you love; but by how much you are loved by others."
I have found the paradox that if I love until it hurts, then there is no hurt, but only more love. ~Mother Teresa
How wonderful it is that nobody needs wait a single moment before starting to improve the world. ~Anne Frank
The purpose of life is not to be happy – but to matter, to be productive, to be useful, to have it make some difference that you have lived at all. ~Leo Rosten
Being good is commendable, but only when it is combined with doing good is it useful. ~Author Unknown
Wherever a man turns he can find someone who needs him. ~Albert Schweitzer
Your comments are welcome. To ask questions or get more information about remodeling, email me directly or visit our contact page.
Disclaimer: Some of these images came from the WEB. If they are yours, and you object to them being used, please claim them and I will gladly remove and replace them at once.
Some examples of what we are doing
A bathroom addition for an ailing veteran (10-19)
We were approached by a family member of one of our NARI members that were in a prayer group for quite some time. They were working with a military veteran who was having trouble staying at home with his chronic disability.
The primary issue was not being able to bathe in his tiny home even with assistance it was unsafe. A plan was hatched to build him an accessible bathroom with a first-class bathing facility.
There is something about adding dignity to a person's life that appeals to all of us. Levco jumped in and offered our time, treasure, and talent to make the project come to life. It is a collaboration with the Contractor Apprenticeship class.
This one is for Pam Lodal

Pam is an amazing person that is suffering from cancer that is kicking her ass. She is the wife of a brother Rotarian that I have the honor to know. As I wish her less suffering and peace in these last days of a devastating disease I use her strength to focus myself and do something positive for another person that is in need.
A bathroom remodel for a needy couple (8-18)
We were approached by a nurse at Saint Alphonsus about a couple who needed help with their home. The plumbing was bad for a long period of time and they were too proud to ask for help.
turns out that their reoccurring medical problems were related to poor hygiene. The nurse felt that the cycle had to be broken!
I asked the Community Paramedics of Ada County to scope it out. Then NARI stepped in and with the help of a series of good deed doers, plumbing fixtures, and flooring were all replaced, serious cleaning occurred and shazam the gift of a new bathroom brought the cycle to an end.
This one was for Kerry Olivier

Kerry left this world way too soon, a victim of depression, the emptiness left in so many hearts and lives gave me the inspiration to give of myself to these folks. Like transplanted organs bring new life, they are living better through good deeds. Kerry's memory is alive in me and in the blessing this project brought to these unsuspecting but so appreciative people.
A shower for a tub swap (9-16)
I have only been in my new location for a year but I was able to make friends with my neighbors all around me. My neighbor to the South recently passed away. She and her family once owned all the property around. My neighbor to the West is an old friend that I have done business with for years. My neighbor to the East is a bustling automotive shot and my neighbors to the North are a salt of the earth older couple I used to meet at the fence while they admired what I had done with the place.
turns out they built the building and created a business to keep them going long after they should have retired.
I was asked to remodel their bathroom and told that he had suffered a stroke recently. Despite his VA connections they didn't want or need much but the tub was just too difficult to use. I got the VA and my remodeling association NARI together and pulled off an amazing makeover that is set up for him upon his return home.
This one was for Teresa Arriola

Theresa was the grandmother and matriarch of the neighborhood. She lived well into her 90's and was a friend of mine for at least a third of her life. We had some fun times together and she was always interested in me, my family, and my remodeling or paramedic adventures. She would have been so proud of me for helping these folks.
Random act of kindness (4-15)
As a new building owner in Garden City, I wanted to make my mark on the community. I have done so by rehabbing my shop and yard, planting trees shrubs, and flowers, and doing my share to beautify my space. Leading by example is a great way to be a stand up member of your community. I am all about setting the culture of the environment which surrounds me.
During one of my recent projects with NHS, (Neighborhood Housing Services) I was able to rescue a set of stairs that were rotten. Rather than recycle them, I had them repaired and powder coated.
The goal was to donate them to a resident of Garden City who needed them. I had the Garden City Police locate the worthy person and delivered the set of stairs to the amazingly fortunate and shocked recipient.
Garden City Police found the perfect home for the new stairs and they helped remove the rickety old wooden ones. The cool thing was that just the week before he has spray-painted a matching table and chairs in preparation for spring. May you use them in good health and feel free to pay it forward.
This one was for Linda Ady

Linda was an amazing person in my life, She was the matriarch of EMS in Idaho when it was new and fresh and exciting. "Shady Lady Ady" looked after me and encouraged me to break out of my shell, a fun person to know with a contagious laugh.
We had some wonderful times together. She would have been proud of me for doing this one.
A bathroom makeover for a Parmanian or Parminite (3-15)
As a board member of Wish Granters, I get the first crack at some of the more remodelish wishes. As you know, the group is all about granting wishes to terminally ill adults. My favorite part is when the wish is practical and useful. Turns out this recipient is living with his mom who will benefit from this wish long after her son is gone.
A built-in clawfoot tub just was too hard for them to use anymore. The dream was to have a walk-in barrier-free shower. One was donated and the wish was on. All that was needed was a group of dedicated folks to make their way out to Parma Idaho to make it happen.
Jen Crossman-Brown, Marc Snyder, and I hit the road a bit late at 5 PM and took the lame advice of my GPS. After arriving and the usual pleasantries were exchanged, my work trailer was downloaded my crew and I got to work. The goal was deconstruction and framing. As the clock turned 10 and we were doing our final cleanup by flashlight there were some tears shed and some bug hugs of goodbye.
The next group will arrive in a few days to install the shower and finish up the installation. As I pulled into my parking spot at around midnight, I had a major sense of accomplishment and sense of satisfaction for a job well done. We did not forget to have some fun too.
Post Script: Sadly, our client passed 2 days after we did our work for him. The project will be completed for his mom who will use it in good health as a lasting memory of her loving son.
My inspiration
As you know, my impetus for being involved with these projects is a direct reflection of my love for mankind. Besides doing something meaningful for someone, this is the best way I have found to keep the memory of deceased loved ones alive.
This one was for Nippa & John

This loving couple died within a few years of each other. they had a used tool store in my neighborhood and we loved tools together. They loved my kids and cared about me. I miss them dearly know that they would be proud to know that I dedicated my labor in their honor.
A roof for a worthy recipient (2-15)
Levco spearheaded a charitable donation through the NARI (National Association of the Remodeling Industry) At the request of Wish Granters a request was put in to provide and install a new roof. The recipient was a terminally ill fellow who felt he wanted to leave a solid roof over his family's head.
Through the gracious participation of the local NARI Contractors Who Care program, donations were raised and charitable contributions came in.
"These little miracles don't just happen on their own", said Doug Raper president of Wish Granters. We were gifted materials from a roofing manufacturer and delivered by a local roofing supply house. Our roofer "comped" most of the project and with a little lucky break in the weather and an interview on Channel 6 KIVI we were able to install a roof in a day.
The recipient had grown up in the area, joined the military, and came back to Idaho when he completed his military service. He was a farmer as a young adult and worked on ranches until he got hired by the JR Simplot Company. "They were a good employer, and I worked hard for them all these years", He said. His family is close and he beams with pride over the photo of the gang gathered around him and his wife.
With tears of joy and hugs all around, I feel like we all did a good day's work. In granting this memorable, yet simple wish, we allowed a man to rest easy and focus on caring for his wife and family now, and long after his days are over.
My inspiration
As you know, my impetus for being involved with these projects is a direct reflection of my love for mankind. Besides doing something meaningful for someone, this is the best way I have found to keep the memory of deceased loved ones alive.
This one was for Kevin Grant

Though I did not know him well, Kevin served alongside me on the board of Wish Granters. He recently passed away and would have been proud of me for completing this wish. He was a strong, giving individual, with a heart of gold. May his memory be an inspiration for others to give back and be compassionate and strong during difficult times. His was truly a life well lived. Rest in peace brother.
I haven't been out of my house for a year (8-14)
Levco has been so enamored with helping folks and the "Pay it forward' mentality that I was asked and agreed to join the Wish Granters board of directors. It turns out that there are tin woodsmen all over.
Wish Granters is a local organization that grants wishes for terminally ill recipients. We had done several projects for them in the past but this insight gave me a new perspective. Talk about an altruistic group of folks, it is as if everyone on the board is some sort of good deed doer superhero.
Being terminally ill is not a good prognosis. Offering a wish is done at a wish interview. Described as a powerful, emotionally draining, and humbling experience, we attempt to discover what we can do to provide a wish. I have not had the honor of attending yet but I am working up to it.
We were asked to provide a wish for a fellow with COPD who had just gotten a mobility chair to come up with some sort of ramp so he could get out of the house. I evaluated the home and recalled that I knew where a ramp was for sale that might work.
I zoomed out and got the ramp for a test run and it fit like a champ! Wish Granters agreed to purchase the ramp for him. The next problem was a threshold that the scooter could not get over. This was solved temporarily then permanently with a custom redwood piece created by my friend Ron Dunagan.
"I can't thank you enough for this blessing, I can finally get outside by myself now"
This is where the joy kicks in for me. It is hard to put into words how much it means to someone that I have taken a moment out of my busy schedule to provide a needed service for a perfect stranger. When I get involved in projects like this, it makes all the troubles in the world and senseless things fade out for a moment and become meaningless. Seeing him scooting in and out of his home effortlessly, albeit connected to his oxygen tether was a priceless moment.
Dedication
I did this one for my mom's mom, Grandma Betty, who introduced me to coffee and took me grocery shopping. She was an amazing cook and housekeeper that made each of us brothers feel special. She kept the tradition alive and well in San Francisco. She was a wonderful person and a powerful woman in my life.
Paying it forward all over again
When this fellow is done with his ramp needs, he has agreed to pay it forward and return it to us to "re-gift" it again.
On a sad note, Jerry just passed away, his wife called to thank me so much for allowing her husband have his dignity and independence in his waning days. "He loved that ramp"! You are very welcome. Bless his heart.
You Need A New Roof – Seriously? (2-14)
Contractors Who Care
As a member of a professional remodeling organization called NARI, there are occasionally calls that come in for help. We have traditionally worked with the community to do all sorts of great projects through our Contractors Who Carevolunteer program.
Lately the ones that I am drawn to are coming from a company called Wish Granters that pre-qualifies folks that are truly worthy of our kindness. This is just one of the cool perks of being a member.
When Wish Granters contacted our local NARI chapter to ask for help again recently, I immediately felt an urge to help out. It is not every day that you get a letter from your insurance company telling you that you need to install a new roof or we will drop your homeowner's coverage. This is where the story begins.
Turns out this letter could not have come at a worse time for Gladis and her daughter. They are both battling cancer and spending every last cent and waking moment dealing with their vicious disease. With the blessings of our local NARI chapter, I spearheaded our efforts.
I take these things personally
I visited the home to verify that roof was really in need of replacement and visited the folks that made the request. In my brief visit, I made a promise to Gladis that her roof would be replaced, one way or another.
We got the word out to a vast network of contacts, and before we knew it, we had dozens of organizations and local companies offering everything from materials and food to refreshments and manpower. As the generous donations and offers for help were piling up, we got stuck on getting the actual roofing materials donated. Our big break came when a local roofing distributor who was also moved by this story, asked for and received the last and most expensive part
I got to make the call
"Gladys, this is Joe Levitch… remember when I told you we were going to replace your roof one way or another? Well, I just learned that we got everything in place that we need to make this project happen!"
Overjoyed, she said, "I'm sorry Joe, but I need to hang up now so I can text my daughter who is going to be coming out of surgery in a few minutes…She will be so happy, we can't thank everyone enough. Bless you, all."
Let's face it, folks, we are all connected. I believe that there is no higher calling than to help your neighbor, it is part of who I am. I think it goes back to how we are able to survive as a species. Doing good deeds speaks to my core values. What we are doing is in simple terms is called a good deed or Mitzvah מִצְוָה in Hebrew. I have named my team The Mitzvah Makers
.
I will need a hand one day
There is no doubt that you and I will need a hand one day. While I have the strength and ability to do so, I will lead the way to help others.
I fancy myself as a bit of a street preacher, modeled after my dear friend and former coworker, Steve Boyenger who quit his dream job at Life Flight so many years ago to go back to Ada County Paramedics because he wasn't getting the volume of patient contact that he needed to fill him up. Compassion and empathy for the frail human condition drive folks like us to do random acts of kindness whenever able.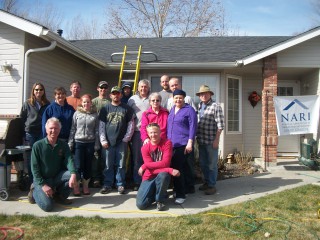 Inspired yet?
You don't need to know the first thing about roofing, we had a barbecue and social gathering at the same time. Wear your work clothes and bring an appetite.If I have touched a chord in you, please join me and lend a hand. Come give until your cup runneth over. Experience what that feels like for yourself, because I find it impossible to put that kind of joy into words.
All sorts of folks came out for a few hours together to celebrate what paying it forward is all about.
Dedication
As many of you are aware my pay-it-forward program also keeps the memory of those alive who have passed before me. I dedicate my effort to a cool nurse named "Mac" who taught me so much during my hospital rotations early in my paramedic career
Dedication
As many of you are aware my pay-it-forward program also keeps the memory of those alive who have passed before me. I dedicate my effort to a cool nurse named "Mac" who taught me so much during my hospital rotations early in my paramedic career.
Sharing the Healing Power of the Sun (2013)
"I get by with a little help from my friends" go the lyrics of the classic Beatles song. Levco takes them to heart.
We were asked through our NARI chapter and our "Contractors Who Care" program to help a fellow in need of a wheelchair ramp so that he could have his wife get him outside to enjoy some sunshine as he deals with hospice care.
I snapped this opportunity up because it touched a chord in me. An anonymous donor supplied the materials and my crew put it together with love and attention to every detail.
We got this one
Here is why I said, "We got this one!". I recall transporting an older fellow that had been hospitalized for an extended period searching for a diagnosis for random symptoms.
Sadly, he was diagnosed with a terminal disease. Rather than fight it, he had just decided to enroll into hospice care across town at the VA. When we arrived his paperwork wasn't quite completed so his wife and the family went up ahead, and I got some alone time to reflect upon his life's accomplishments. As I rolled him towards the ambulance I decided to divert and I rolled him into the sunshine and stopped for a few minutes.
While we were sharing that private moment, he asked me in a quiet disarming way, "Joe, do you think I made the right decision?" stunned temporarily and overwhelmed by his powerful innocent question, I eased his mind completely and reassured him that he had made the right decision. I recall telling him and that he was going to be fine. I reminded him to ask lots of questions so that it wouldn't be so scary, but above all, let them help you enjoy every moment you have left.
Upon arriving at the VA a little late, he explained to his doting, worried wife that we were delayed because I had taken him into the sunshine for a while "It felt like heaven honey!" he said to her. We hugged as I said goodbye. I will never forget him nor the possibility of sharing that feeling with another human being through a simple act of humanity.
Remodeling is a bigger calling than earning a living to us. Get a little sun on you man!
Dedication
I did this one for Jeff Furner a Paramedic and Nurse, He passed not too long ago but his memory will remain alive in me for the remainder of my days. We worked together at Ada County and at Life Flight. "Don't Furner the pack" in reference to a time he shoved the pack out of the aircraft onto what he thought was flat terrain. He ended up having to retrieve it from a valley and broke everything down to the bags of lactated ringers. Rest in peace brother.
Levco participated the YMCA Strong Kids Yard sale.
We contributed some of our old stuff and we were able to donate a bunch of things from a family that was downsizing into a new home. Is that like re-gifting?
In addition to helping the gang with donations, we provided a case of yummy apples which were sold and shared amongst the volunteers.
It is obvious to us how this plays right into the Pay it Forward program. These kids are our future. I heard they raised several thousand dollars in this effort!
Boys & Girls Club Remodeling Project
Levco helped do a portion of the work on the Boys and Girls Club in Garden City. Although we only played a small part in cutting and breaking out concrete for some new windows, the act of volunteering on such a cool thing.
The project is to create an education center within the existing building. We are participating in a NARI project that is all about doing good for other "Good Deed Doers". Look for a grand unveiling in Mid November.
The Club
While I was there I hung out at the front counter for a while. I got to interview some of the employees and parents. I learned that for a small monthly fee, your kids can go there after school to get help with their homework, do activities that are physical and educational. They also serve snacks and have a very caring staff.
We were also able to locate a trio of shelving units that solved a serious storage issue and donate that unit as well.
I just received this kind thank you letter from the club for my effort and participation which made me smile.
Tired Old Deck
Levco was asked to help some folks that were struggling with an unsafe front porch. They had been promised assistance from another organization but the promises were not kept. Levco sprung into action and rounded up the heard of willing volunteers. Armed with drills, saws, and graciously donated lumber, we dug in with boundless energy.
It was a cool sunny September day 2012. The crew assembled was up to the task, we had to demo a warn-out unsafe deck and replace it with a sturdy one. This project was a bit more technical than our first project.
We were 9 strong at the peak and proved to be up to the task. By the time the dust settled we were sunburned and tired, we had cycled through our battery-operated tools at least 50 times and were beaming with pride.
My hat is off to all the participants. They truly came from all walks of life. This is what I had in mind when the program was developed.
At the end of the day, I believe we got more than we gave.
We shared a beer and the knowledge we spent our doing a random act of kindness that is appreciated beyond our ability to imagine. We returned a few weeks later and took care of the back porch too because it was a safety hazard.
On our final visit, we also donated a gallon of deck sealer which they put on gladly. It was the finishing touch on a project that added a dab of safety and dignity to these folks' lives.
As bad as you think you've got it there is always someone out there that has it worse.
Although we do this work day in and day out for a living there is something cool about volunteering ourselves that can not be duplicated by just talking about it. I encourage anyone wanting to get a new kind of high to give it a shot.
Dedication
I did this one to honor the memory of my old best friend Kendall O'loughlin, Best man at my wedding and a hell of a guy. He looked up to me and became a paramedic, only to find that it wasn't a perfect fit. He went on to join the Oakley sunglasses team and sadly took is own life.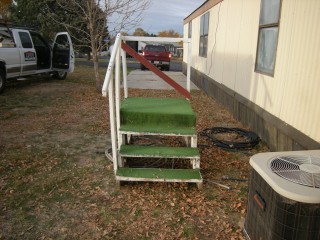 Existing Back Stairs
Here is the first real project in May 2012.
We completed our part for a grateful elderly man who has lived a long and colorful life, He has lots of kids and grandkids who love him dearly, and was recently diagnosed with a terminal illness.
We did the demolition for the start of a new bathroom project including a larger door, a rearranged bathroom so he can move around in his wheelchair, and a roll-in shower so he can bathe.
We tore out leaded tile and a bathtub and cleaned up everything. Several other companies are participating and within a few weeks, this place will look great, leaving the homeowner with the ability to live out his days with dignity in his own home.
Ode to Grandpa Ben
I did this one in honor of my Grandpa Ben who taught me a lot about the love of tools and being handy.